When Katherine Guthrie teaches, she brings a mentality to the classroom that may surprise you. "When I begin to teach, I see myself as my student's coach. I am training these students to get to a certain point — the end of the race. My job as their coach is to prep them for the journey to the finish line, which includes focusing on the importance of the 5k, the 10k, the half, and then finally, the full marathon. I have to make sure that my students are strong and confident enough to perform to the best of their ability to make it to the end."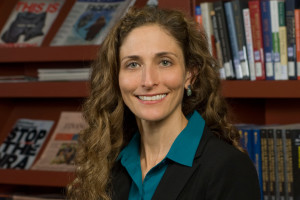 Guthrie, the Mansfield Associate Professor of Business at William & Mary, earned her B.A. in economics and international relations as a dual degree from the University of California, Davis, and later went on to receive her Ph.D. in economics from the University of Michigan in 2006. Although Guthrie's favorite course to teach, "Introduction to Corporate Finance," is available to all majors, she admits that this sometimes puts pressure on her and her coaching philosophy. "Usually when you're the coach of a team, all the players want to be there. But with my team for this class, only about 50 percent of the players want to be there — half of the students are finance majors who love and thrive on this material, and the other half struggle with the material and truly dread my class," she explains.
However, Guthrie says that this imbalance of love and hate from her students is what makes the class so enjoyable. "With my finance majors in this class, they will see this material multiple times, so I do not have to worry so much about them grasping it their first go-round. But with my non-finance majors, because this may be the only finance class they will take the rest of their lives, it's my job to impart on them as many pearls of wisdom as I can while we're together," Guthrie said.
Guthrie says that her two main goals for the classroom are to give her students the skills they will need when they begin the job search, and to help increase their confidence to allow them see just how much they can grow when they are faced with certain challenges. "Students will come back to me after graduation and say "Intro to Corporate Finance" was the hardest class they took during their undergrad, but they understand now why I did what I did, and they are grateful for it."
While Guthrie's specialized research is now in corporate finance, she originally had a much different focus in mind when she began to pursue her Ph.D. "My intended specialized area of research, at first, was international development — studying emerging and developing economies. But when the Enron scandal of 2001 happened and the unraveling and fall of many other corporations after that, I became completely fascinated with this field." Guthrie says that this all happened around the same time she had to select a dissertation topic. "When it came time to choose, there was nothing in my original area of research I wanted to focus on — this scandal was all I wanted to know more about! So that is what really piqued my interest and why I am still pursuing research around corporate finance today."
Guthrie, currently on sabbatical, says that having this break allows her to take time to explore new projects and begin the process of restarting her research agenda. "Being on sabbatical has helped me develop the direction I want to take with my research, and I've decided that means breaking it down into two paths: the study of corporate governance and how behavioral factors lead individuals to make personal financial decisions," Guthrie says. Although being on sabbatical usually means professors travel for their research, Guthrie has decided to stay in Williamsburg. "I chose to stay on campus because I am the faculty advisor for two new organizations — Women in Business (WIB) and Smart Women Security (SWI). And with both organizations in charge of fairly prominent events, I felt pulling out as faculty advisor for a year would leave my officers a bit stranded," Guthrie says.
One of those prominent events is the Raymond A. Mason School of Business 100th anniversary of coeducation at William & Mary, in 2018. As a trial run, WIB and SWI will co-host an inaugural Women's Leadership Summit and Stock Pitch Competition in spring 2015, with attendees expected from higher education institutions all over the country, including Harvard, Chicago, University of Virginia and Yale.
When she was named the Mansfield Associate Professor of Business, Guthrie's emotions were all over the board. "I felt honored, excited, and then a huge sense of responsibility to make this opportunity something really meaningful." Guthrie explains that she feels being matched with her donor, Dawn Mansfield Arnall '80, M.B.A. '82, is truly a match made in heaven — seeing this opportunity as more of partnership where they will both benefit from working with each other on a number of levels.
Because of Guthrie's own opportunity, she believes it is vital to continue to build these funds to ensure that the best and brightest students will continue to be provided with the world-class education offered at the university. "I have what I call my little kids and my big kids — my own children and my college children. I am around my little kids as much as my big kids, so it is important to reward and acknowledge professors who dedicate their lives to supporting their students, paying it forward, and keeping their research current. My end goal has always been to interact enough with my students on a daily basis so that I will have some sort of lasting impact on their life. And because of this professorship, I know that the possible ways to achieve that goal are now endless."