William & Mary helped Joshua "Josh" Zimmt '17, to find a 5-million-year-old fossil of a whale jaw bone embedded in a cliff in Surry County, Va. William & Mary helped Josh to travel across the world to Australia to pursue research, and then have the opportunity to publish that research in a scientific journal in the winter of 2016. William & Mary allowed Josh to become a member of the first Tribe men's swimming team to win the Colonial Athletic Association (CAA) title, by one of the largest margins in conference history. William & Mary helped Josh to do a number of things, but most significantly, William & Mary allowed Josh to find himself.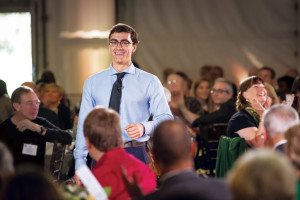 "When I first came to the College, I only saw myself as 'just a swimmer,'" Josh said. A competitive swimmer most of his life, Josh has been on the Tribe men's swimming team since fall 2014. However, Josh came to the university knowing he had more passions in life than just swimming. A double major in biology and geology, Josh chose his academic path after having an introductory geology class with Professor Rowan Lockwood that opened his eyes to the idea that he could follow his passion of paleontology, and have a career in paleobiology. "It is my hope to pursue a career in paleoclimate, in an attempt to learn more about past climate and climate change, and how it relates to the effects of climate change we see today," he said.
Josh's identity of "just a swimmer" has steadily morphed over the course of his time at the university. "William & Mary has really helped me to explore my passions, particularly paleontology, and I now see myself as more of a 'swimming paleontologist,'" he said. "I have been able to pursue an independent research project that took me to Delaware earlier this year for the start of my fossil research, to the University of Alabama over spring break to conduct the lab work, and even take my research across the world and travel to Australia, and have those findings possibly published in a scientific journal," said Josh.
Josh is quick to note that none of the amazing opportunities he has experienced would have been possible without the generous support of his scholarship donors. In fact, receiving financial aid affected his decision to attend William & Mary from the very beginning. "When I was choosing between attending an Ivy League school and William & Mary, I would be able to receive a lot of aid from the Ivy League school," Josh explained. "But my dream was always to attend the College. My parents were concerned about the out-of-state cost, but because of the different scholarships that William & Mary offered me, I was able to relieve my family of any financial burden, and that was really the deciding factor."
Now Josh is thriving, living a balanced life of a college athlete and an aspiring scholar. "I have grown leaps and bounds as a person because I have been able to experience life at William & Mary," said Josh. "I have been able to step out of my comfort zone, and relinquish that identity of 'just a swimmer.' I have been able to take chances and grow in ways that I never thought were possible, and it has really helped me develop my confidence. To go to Australia, attend a national conference, and work to publish a research paper were all things I never in my wildest dreams saw myself doing with my 'just a swimmer' identity. And now, when I leave college, I will still be a swimmer, but I am also going to be a paleontologist. And that is one of the wonderful things about attending William & Mary — that one school can foster such different, yet attainable identities," he said.
According to Josh, the experiences one can have at William & Mary are unparalleled. "In the future, if I can contribute to a student being able to have even half of the experiences I have been blessed with, then there is no doubt in my mind I will give back to William & Mary," he said. "Every moment that I have had here that has made a lasting impact on the person I am today is because of donors," Josh explained. "William & Mary's commitment to academics and excellence has really helped me along this journey of developing my identity, which I have found has been the greatest gift of all."