Mark Hofer is a man of many talents. Not only has he never lost a thumb wrestling match, he has the uncanny ability to identify the voice of narrators in movies, television shows and commercials. And by day, Hofer is the Spears Term Distinguished Associate Professor of Education at William & Mary, where he teaches future educators about integrating technology into their classrooms.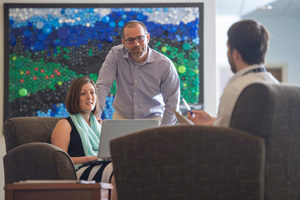 Hofer began teaching high school social studies after graduating from the University of Notre Dame. "I started using technology in my teaching, which was way early in the technology revolution," Hofer says. "But I was really interested in how it can engage some kids who are completely disengaged otherwise, and how it can really turn students on to learning."
Hofer decided he wanted to work in a teacher education program, and so he went to graduate school at the University of Virginia. After finishing his Ph.D., he taught for two years at Towson University. While he appreciated the experience, Hofer found his job to be a heavy teaching load and had difficulty finding the time and resources needed to perform research.
He joined the W&M faculty in 2008, becoming the Spears Term Distinguished Professor in 2014. His professorship is named after Sallie Gertrude Smoot Spears, who did not attend W&M, but had a love for her native state of Virginia. Since 1980, her gift has helped provide financial support for faculty.
Hofer finds that his position in the School of Education provides the perfect balance between teaching and research. He has the opportunity to teach at both the graduate and undergraduate level, but still finds that scholarship is valued and appreciated at W&M.
Hofer is interested in integrating technology into classrooms in order to engage students. When he was a middle school and high school student in the '80s and early '90s, much of the schoolwork he was doing was project-based work.
"I can still remember projects that I did in elementary school that were long-term projects that challenged us to apply what we were learning in class to real-world situations," Hofer says. "But by the time I was teaching in the mid-'90s, there was a shift to preparing students for high-stakes testing. There's a lot of research nationally about how, as kids go through K-12 schools, and hit sixth grade, their engagement and interest in school just goes off a cliff."
A lot of Hofer's research over the last few years has been focused on students creating short documentary films in their history classes. "History can be such a dry subject in the way it's typically taught," Hofer says. "But documentaries are an engaging medium because kids are so wired into video. You take that love of video and encourage kids to create evidence-based arguments, which is what a documentary is. You can get them to do really intellectual, high-level work in a medium that's very engaging and real for them. That's the kind of work I feel we need to have across the spectrum in K-12."
Much of the research Hofer performs is qualitative case study research that is often context-dependent. "This type of research doesn't lend itself to large-scale studies or quantitative survey data," Hofer says. This means there aren't usually many funding opportunities for Hofer's type of work.
"Without this professorship, it would've cost much more time and effort to find funds. I can't speak highly enough of how much I've appreciated that support because it really has made a huge difference in my career."
Hofer keeps that fact in mind while teaching and conducting research, and he hopes the work he has done has paid it forward. One of his proudest moments was the creation of a book he wrote with a colleague on incorporating documentary filmmaking into the classroom. A decade's worth of research culminated in a sort of handbook for teachers who wanted to do this. Hofer says this book was very gratifying for him professionally, in the sense that it was long-term, sustained research out in classrooms, but with a practical product that teachers were able to use.
"I want to say a sincere thank you to the donors who make professorships possible," Hofer says. "They stimulate creativity and whole new areas of scholarship that would be difficult or impossible without their help. They make such a contribution, not just to W&M, but to the broader academic community."